And Then There Were None
by A. Christie
Duration: 2 hours, 25 minutes (with a 20-minute interval)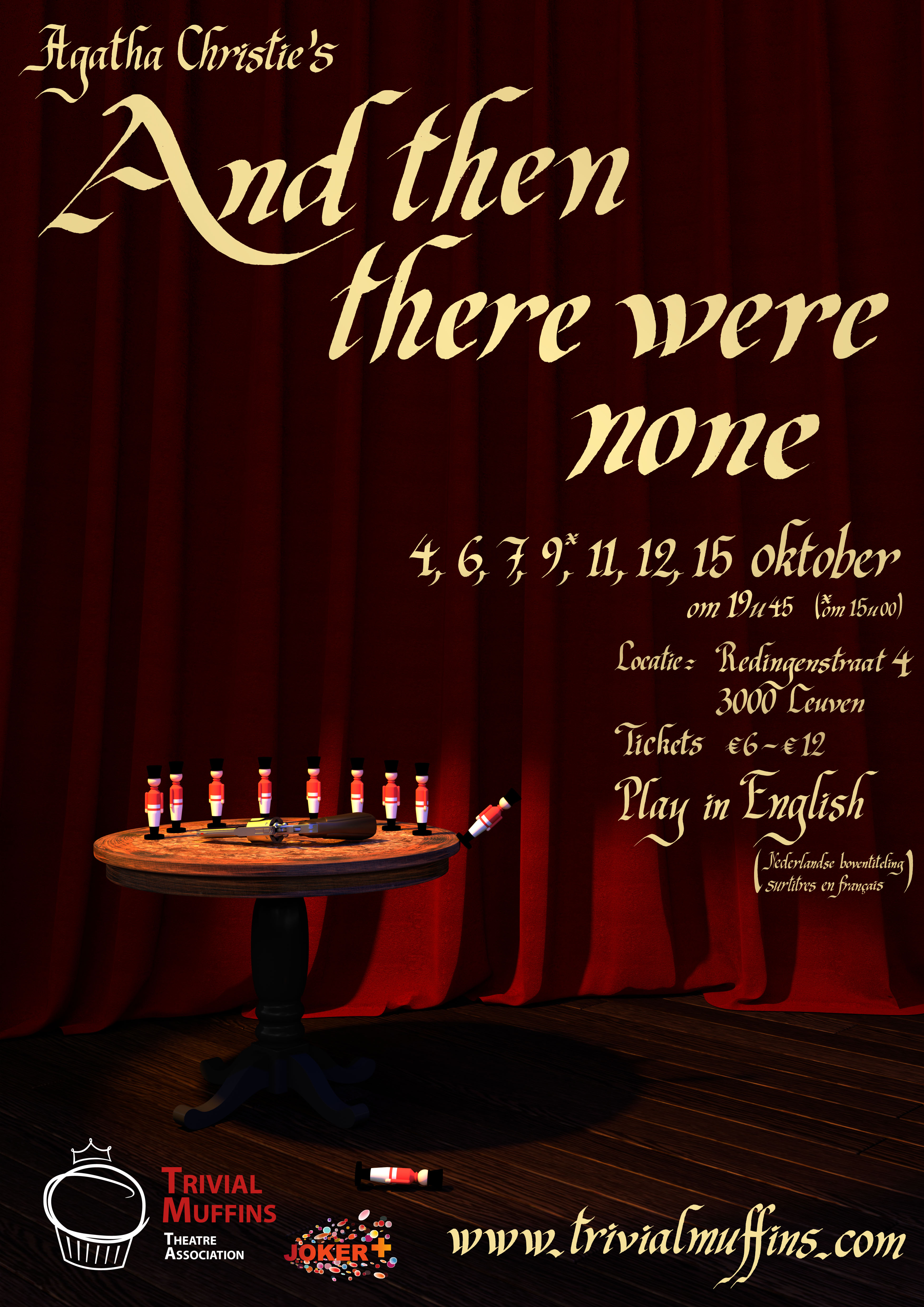 And Then There Were None is one of the greatest mysteries written by the Queen of Crime, Dame Agatha Christie. Christie herself penned the stage adaptation in 1943, which Trivial Muffins is pleased to present as its second production.
'Ten little soldier boys went out to dine.
One choked his little self, and then there were nine.'
Ten strangers are invited by the mysterious Mr. U.N. Owen to a dinner party on Soldier Island. At dinner, the young playboy and speed-devil, Anthony Marston, chokes and dies. It soon becomes apparent that he has been poisoned...and that he will not be the only victim. A terrible storm has cut off passage between the island and mainland, and a foreboding voice on a gramophone announces the death sentence of each of the guests, revealing their dark secrets from the past. Only nine people are left on the island...then eight...then seven... Someone is the killer. But who?
'One little soldier boy left all alone.
He went and hanged himself and then there were none.'
Production
| Producer | Director |
| --- | --- |
| Hadrien Baudot | Alberick Lismont |
Cast
| Role | Actor |
| --- | --- |
| Philip Lombard | Hadrien Baudot |
| Vera Claythorne | Marieke Colleman |
| Henry Blore | Ben Verhaegen |
| Sir Lawrence Wargrave | Maarten Croonen |
| Dr. Armstrong | Peter Verreydt |
| General Mackenzie | Jeffrey Vansuyt |
| Emily Brent | Ivana Vranjes |
| Mr. Rogers | Niels Bosmans |
| Ethel Rogers | Inge Smeers |
| Anthony Marston | Arnaud Van Mieghem |
| Fred Narracott | Alberick Lismont |
Dates
4th, 6th, and 7th of October, 2016 (20:00)
Malpertuus, Leuven
9th of October, 2016 (15:00)
Malpertuus, Leuven
11th, 12th, and 15th of October, 2016 (20:00)
Malpertuus, Leuven